Hire Trolleys
We have different products for hire depending on what your needs are.
Below are the products we hire.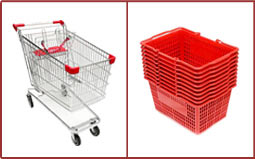 Shopping Trolley
Shopping Baskets
Trolley Sales

Supermarket Trolley
Multi Purpose Trolley
Baby Capsules
Security Trolley
All hire products are also available for purchase along with many other products.
For product sales refer to www.sosretailsales.com.au
Trolley Repairs & Maintenance
SOS Maintenance Services represents 50 years of service to the retail industry, specialising in retail equipment maintenance , manufacture and repairs. Our client list includes, K Mart, Target, Woolworths, Dan Murphys, Safeway, Bunnings, IGA Supermarkets, Foodworks Supermarkets, Spotlight Stores, Anaconda, Officeworks and many more.
For further information refer to: www.sosmaintenance.com.au
Trolley Delivery and Collection Service.
When you hire your fleet of trolleys, we are able to deliver a day prior to your special event and then collect again once your event has finished. The delivery and collection service is quoted at the time of your enquiry.